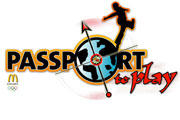 USA Today
is reporting that McDonald's, the company that gave us Happy Meals and supersized fries, is jumping into gym classes.
The fast-food giant is launching a new national physical-education program Tuesday aimed at third through fifth graders and includes games and activities from countries around the world.
McDonald's says 31,000 public elementary schools with 7 million students have agreed to try Passport to Play this year. It's up to individual PE teachers how much they use the new activities such as boomerang golf from Australia; Japan's Mr. Daruma Fell Down, a game similar to red light, green light; and Holland's korfball, which combines elements of basketball and football. Each time students complete a game from another country they will get a stamp in a pretend passport — one of the educational materials that will carry the golden arches logo.
Critics charge the fast-food company has no business in gym classes. "It is a travesty to have a PE program branded by McDonald's," says psychologist Kelly Brownell, director of the Rudd Center for Food Policy and Obesity at Yale University. "It further commercializes schools and gets the company even more publicity with children."