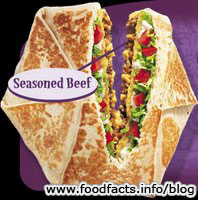 Taco Bell has announced they will bring back their
Crunchwrap Supreme
and make it a permanent member of their menu.
The Crunchwrap "takes popular Taco Bell flavors and makes them portable by wrapping it with a tortilla, creating a unique hexagon shape, sealed on all sides to avoid spills....a crunchy tostada shell, seasoned beef, warm nacho cheese sauce, lettuce, juicy tomatoes and cool sour cream. The product is wrapped in a flour tortilla and grilled to seal in all the flavors for maximum portability."
This could easily be the inspiration for the
SNL Taco Time parody
.