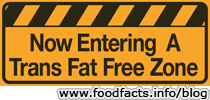 The Chicago alderman, Edward Burke, who has
called for a city-wide ban on trans fat
, has now called for the CEOs of the major fast food chains to appear before the City Council and answer for their use of trans fat.
He specifically ask for Jim Skinner of McDonald's, John W. Chidsey of Burger King Corp. and David C. Novak of Yum Brands Inc., the parent company of Pizza Hut, Taco Bell and Kentucky Fried Chicken to come and explain "why they continue to use an unhealthy process when they know full well that they're putting their customers at risk."
Burke was particularly critical of McDonald's for promising to eliminate trans fat over 4 years ago and still having made little progress to date.
He praised Wendy's, though, for doing just that and invited Wendy's interim CEO, Kerrii Anderson, to address the council on just "how easy it was to make the change."
[via nwitimes.com]