I decided this would be a good post for the weekend considering it has the potential to waste hours of your time. As I've found on-line games related to fast food I've been making a list and today I'm posting them all for your weekend time-wasting pleasure:
The
Fast Food Logo Game
presents you with 26 partial fast food logos and challenges you to guess which restaurant they represent.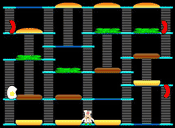 Burger Time
is a Donkey Kong variant in which you direct a little chef up ladders, across beams, and over burger components to construct complete burgers before being tackled by errant hot dogs.
[via A Hamburger Today]

McVideogame.com
is both a game and a disturbing look at McDonald's that I
wrote about
in March. It is is a satirical, 'anti-advergame' that highlights the dark-side of running a McDonald's-like fast food restaurant. The player discovers that to make money running the company you must exploit underdeveloped countries and low-wage workers and feed unhealthy growth hormones to cattle.
Fast Food Fiasco
can be almost as addictive as fast food itself, without the additives! It's a traditional matching game like Bejeweled in which you have to arrange 3 identical fast food items in a row or column to score points.
Guess the Calories
is exactly what it sounds like: the game presents you with a popular fast food item and you have to move the slider on the calorie scale to indicate how many calories you think it has.
Hint: use Fast Food Facts or the Fast Food Facts book to cheat!
Busy Burger
is an infuriating (read challenging) little animated game that requires you to prepare and bag exactly what the customer has ordered. There are only three items for customers to choose from; burgers, fries, chicken, and a drink, but fulfilling an order requires planning and coordination.
Burger Invasion
is a Galaga, shoot the space ships, type game except that the space ships are burgers and what looks like croissants. It just barely qualifies as a fast food game; primarily because of its name.
Bueno Rufus
features Bueno the Beaver (!) who has been hired by a Mexican fast food joint to process orders. He has to top each dish with the correct topping before they quickly zap by. You help Bueno make the right choice of toppings in the nick of time because this is fast food and Bueno needs to be on his toes!
Fast Food Follies
is really a horrible game both in premise and play. I don't even know why I'm listing it except for its absurdity. It is a shoot 'em up game that takes place in a Canadian Dairy Queen. The DQ employees you're shooting at are always in the same place and the premise, that DQ is getting meat anywhere it can, is just plain weird.
Of course the big boys have created some of their own games at their respective web sites:
Taco Bell has a
memory game
and you can
dress up their sauce packets
.
There's a couple games, including Burger Invaders, at
Hardee's
and
Carl's Jr.
; just click on the video game controller on their homepages.
McDonald's has gotten in the game, too, with
Shark Bait
. Shark bait is a promotion game for their Filet-O-Fish sandwich that I've
written about before
.
If you'd prefer to go with the full PC game experience you could purchase either
Fast Food Tycoon 2
or the more advanced
Restaurant Empire
at Amazon.
And finally, if you need a fast food game fix on your mobile phone there's
Fast Food Mayhem
.