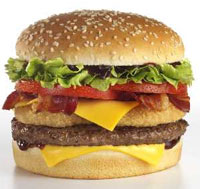 Jack in the Box has introduced two new western themed sandwiches, the Outlaw Burger and the Outlaw Spicy Chicken Sandwich.
They feature, respectively, either a jumbo beef patty or spicy crispy chicken breast with fried onion rings, slices of bacon, slices of American cheese, lettuce and tomatoes topped with
KC Masterpiece
Original Barbecue Sauce served on a toasted sesame bun.
"Consumers are looking for unique tastes and options when they dine out," said Teka O'Rourke, director of menu marketing and promotions at Jack in the Box. "Offering our guests bold barbecue flavor with the choice of beef or chicken answers both demands."
UPDATE: Jack in the Box was nice enough to e-mail nutritional data for these sandwiches today. The burger has 820 calories, 380 calories from fat, 42 grams fat, 17 grams saturated fat, 4 grams trans fat, 75 mg cholesterol, 1610 mg sodium, 80 grams carbohydrates, 3 grams fiber, 23 grams sugars, and 30 grams protein. The chicken sandwich has 780 calories, 290 calories from fat, 32 grams fat, 10 grams saturated fat, 5 grams trans fat, 70 mg cholesterol, 1930 mg sodium, 92 grams carbs, 5 grams fiber, 23 grams sugars, and 33 grams protein. The high sugar levels are probably due to the high fructose corn syrup (HFCS) in the bun and the KC Masterpiece BBQ sauce.