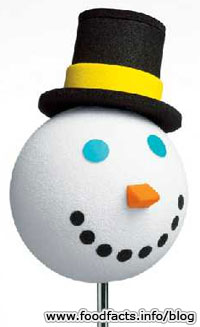 Jack in the Box has begun celebrating the holidays with 2 seasonal menu items and a free holiday antenna ball.
Jack has brought back the Pumpkin Pie Shake and the Egg Nog Shake. A free holiday antenna ball is yours with the purchase of either of these shakes (otherwise the holiday antenna ball is 99 cents).
Jack is proud to point out that these shakes are made with real ice cream, but a little less proud to admit that they contain trans fats (hopefully they'll eliminate those soon).
"We've developed an amazing array of unique shake flavors over the years, and the Pumpkin Pie and Egg Nog shakes are popular standouts in the category," said Teka O'Rourke, director of menu marketing and promotions for Jack in the Box Inc. "We're excited to bring them back this season, along with our Holiday Antenna Ball, as a gift to our guests."
The shakes are available in 16 and 24 oz sizes and priced at $2.49 and $2.99 respectively.
The large (24 oz) Egg Nog Shake has 1210 calories, 510 calories from fat, 57 grams of fat, 39 grams of saturated fat,
3 grams of trans fat (!)
, 190 mg of cholesterol, 390 mg sodium, 152 grams of carbohydrates, 1 gram of fiber, 110 grams of sugars, and 18 grams of protein. (Divide the above by 1.39 for the approximate info for the smaller 16 oz Egg Nog Shake.)
The large (24 oz) Pumpkin Pie Shake has 1170 calories, 510 calories from fat, 51 grams of fat, 29 grams of saturated fat,
2.5 grams of trans fat
, 190 mg cholesterol, 410 mg sodium, 144 grams carbs, 1 gram fiber, 123 grams sugars, and 18 grams protein. (Divide the above by 1.36 for the 16 oz Pumpkin Pie Shake.)