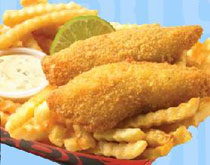 Del Taco has decided to capitalize on the popularity of their crispy fish and shrimp tacos by adding more seafood menu items.
The new items are "Fish and Papas" and "Shrimp and Papas." Shrimp and Papas comes with 10 shrimp and an ancho chili sauce for dipping. Fish and Papas (pictured) comes with two fish fillets and a new tasty jalapeno tartar sauce. Both are priced at $2.99.
"We're bringing together into one dish two of our most popular menu items," said Sharon Fogg, Del Taco senior vice president of marketing. "For years, we've been known for our world-famous crinkle-cut fries. What we're doing now is combining those fries with our newest and fastest-growing line of offering – our fish and shrimp products."
The 2 new menu items will be available at Del Taco this week, just in time for Lent, and will be promoted with television and radio ads.