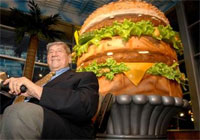 McDonald's Big Mac sandwich was first served 40 years ago by its inventor Jim Delligatti (pictured).
To commemorate the creation, the Big Mac Museum Restaurant has opened in North Huntingdon, Pennsylvania, just 40 miles north of where the first double burger, triple bun sandwich was served in Uniontown for 45 cents.
from USA Today:
"The museum has it all: the world's largest Big Mac — 14 feet tall and 12 feet wide — a bronze bust of Delligatti, a high-tech global Big Mac map and wallpaper peppered the ad 'two-all-beef-patties-special sauce-lettuce-cheese-pickles-onions-on-a-sesame seed-bun.'

It took Delligatti, now 89, two years to convince McDonald's to allow him to serve up the sandwich. After the first day, he realized that two buns was too sloppy, so the middle bun was injected."
By 1968, the Big Mac was on McDonald's menus nationwide. McDonald's sells 550 million Big Macs each year in over 100 countries.
Delligatti said he still eats an average of one Big Mac a week...and you can tell it's true from the photo!