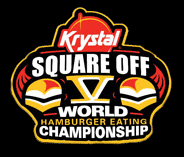 Krystal Square Off V World Hamburger Eating Championship
is coming soon. Qualifying rounds are already underway.
Krystal's 5th annual hamburger contest will take place in Chattanooga, TN on September 28, 2009.
Last year an injured jaw forced three time defending Champion Takeru Kobayshi to
miss the 2007 Square Off, leaving the door wide open Joey Chestnut who ate 103 of Krystal's little square burgers.
The second of 7 regional qualifiers took place yesterday (Sept. 1). The 5 remaining qualifying rounds will take place on:
September 6 in Atlanta, GA,
September 13 in Nashville, TN,
September 14 in Knoxville, TN,
September 20 in Birmingham, AL, and
September 21 in Memphis, TN.
The 1st place prize is $50,000.
By the way, a Krystal burger weighs 60 grams and has 160 calories, 70 calories from fat, 7 grams fat, 3 grams saturated fat, 20 mg cholesterol, 260 mg sodium, 17 grams carbs, 1 gram fiber, 1 gram sugars, and 7 grams protein.
So 103 burgers (last years winning amount) would have 16,480 calories and 721 grams of fat (or 1.6 pounds of fat).
That's the calorie equivalent of 59 McDonald's hamburgers, 38 McDonald's Quarter Pounders, 59 Burger King Whoppers, 40 Wendy's Classic Single with everything, 17 Jack in the Box Ultimate Cheeseburger, or 78 Subway 6-inch Turkey breast subs.