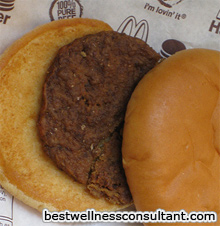 I've always wanted to do this, but never got around to it. Morgan Spurlock did it in
Super Size Me
, but for only about a year as I recall.
But
Karen Hanrahan
has kept a McDonald's hamburger since 1996.
Yup, she's had this burger for 12 years!
And it still looks ready to eat. That's frightening!
McDonald's (and presumably other fast food joints) use a lot of preservatives to keep their food fresh-looking (note that I say 'fresh-looking,' not 'fresh') during it's production, transportation, and storage. This keeps their food looking fresh a lot longer than is natural. (See the end of this post for the current ingredients in a McDonald's Hamburger bun.)
Trust me, if you grilled a burger and put it on a bun and put it in a container for a month, you'd have to scrape the mold off just to see it.
As Karen says, "Ladies, Gentleman, and children alike - this is a chemical food. There is absolutely no nutrition here."
Karen is a wellness consultant and uses the 12 year old burger as a prop in her talks. See all the photos and read Karen's description on her blog, "
Best of Mother Earth ~ Creating Healthier Lives
".
UPDATE: Regarding the hamburger wrapper in the photo that is clearly a more current wrapper with the "I'm lovin' it" slogan, Karen explains this in her post: "The paper and bag in the backround is circa 2008 - to add decor to the photo. My friend Robyn's idea."
---------
McDonald's Hamburger Bun ingredients (as of 2008):
Enriched flour (bleached wheat flour, malted barley flour, niacin, reduced iron, thiamin mononitrate, riboflavin, folic acid), water, high fructose corn syrup, yeast, partially hydrogenated soybean oil, soybean oil, canola oil, contains 2% or less of each of the following: salt, wheat gluten, calcium sulfate, soy flour, ammonium sulfate, calcium carbonate, calcium phosphate, monocalcium phosphate, ammonium chloride, baking soda, sorbic acid, deactivated dry yeast, dough conditioners (may contain one or more the following: distilled monoglycerides, DATEM, sodium stearoyl lactylate, calcium peroxide, ascorbic acid, azodicarbonamide, mono- and diglycerides, enzymes, guar gum), calcium propionate & sodium propionate (preservatives), soy lecithin.
Note: Calcium and Sodium Propionate are 'mold inhibitors,' hence the fresh looking 12 year old bun!