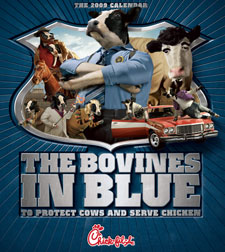 The latest annual Chick-fil-a calendar featuring the "Eat Mor Chikin'" cows is now available at your local Chick-fil-a.
The 2009 version has a police theme called "Bovines in Blue."
The 2009 calendar features monthly portrayals of notorious Bovines in Blue who have taken burger enforcement into their own hooves in an attempt to save their fellow cows' hides. Highlights include Charsky & Hoof breaking up burger rings and foiling beef extortion plots; the ever-resourceful MooGyver who has guided countless villains toward the ways of chicken-eating; a Grill Street Blues officer questioning a burger-eating criminal; and BSI: Bovine Special Investigators reconstructing elaborate lunch scenes using fork trajectories, ketchup splatter patterns and the latest in sesame seed analysis.
The calendar costs $6.
"The Chick-fil-A Calendar is an entertaining way to leverage two of our strongest qualities: the 'Eat Mor Chikin' Cows and our food," said Steve Robinson, Chick-fil-A's senior vice president of marketing. "Many of our customers buy the calendars year after year just for the comical Cow illustrations, but in these tough economic times, the $30 worth of food offers also make the calendar a valuable gift option. Combine it with a Chick-fil-A gift card and the Bovines in Blue will love you!"