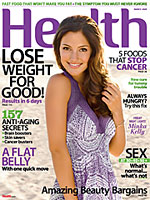 Health Magazine
's March issue features their list of the ten healthiest fast food restaurants.
Their ranking is:
Panera Bread
Jason's Deli
Au Bon Pain
Noodles and Company
Corner Bakery Cafe
Chipotle
Atlanta Bread
McDonald's (!)
Einstein Bros. Bagels
Taco Del Mar
Yes, we're not kidding, they put McDonald's at number 8 and Chick-fil-a and Subway didn't even make the list. Who are Health Mag's major advertisers anyway... or who are the hoping to get as advertisers!
Say what you will about Subway, but if you have half a brain you can order a very healthy meal at Subway. And Chick-fil-a goes out of their way to provide healthy options. These are just two examples, I'm sure you can think of more.
And #9 is Einstein Bros. Bagels. Bagels. Really? Come on! Healthy? I have nothing against Einstein Bros., or McDonald's for that matter, but they don't belong on a list of the healthiest fast food restaurants.
I like the quality, healthy options offered by Panera and Jason's (number 1 & 2 on their list), too, and would have put them near the top of my 'healthiest' list, but when you choose McDonald's over other obvious choices it taints the meaningfulness of your list.
Also, I would have put Chipotle closer to number 1, than their number 6, for their efforts in natural, hormone-free meats.
Now you know!