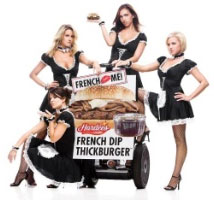 Hardee's is promoting their French Dip Thickburger with a national tour of French Maids that will cruise around local events on Segways. If you show up and have your photo taken with the hot, busty French Maids you can pull up the photo on their
French Me website
to show it to your wife and/or GF.
The French Dip Thinkburger (introduced today at participating Hardee's) features thinly sliced roast beef and melted Swiss cheese and is served with a cup 'au jus' for dipping.
"What do maids, toast, kisses and burgers all have in common? They're all better when they're French," said Brad Haley, Hardee's Executive Vice President of Marketing. "Our loyal fans not only love Hardee's food, they enjoy the beautiful women who have starred in our commercials over the years. So, we decided to take it one step farther and send some French Maids across the country to help celebrate summer and the delicious French Dip Thickburger."
Here's the city schedule for the French Maids, you can follow (stalk) them more closely
on twitter
:
July 13-14 - St Louis, Mo.
July 17-19 - Greenville, S.C.
July 21-22 - Knoxville, Tenn.
July 24-26 - Indianapolis, Ind.
July 30 - August 1 - Charlotte, N.C.
August 3-6 - Myrtle Beach, S.C.
August 7-10 - Jacksonville, Fla.
August 13-16 - Nashville, Tenn.
August 18-19 - Columbus, Ga.
August 21-24 - Atlanta, Ga.
August 26-27 - Birmingham, Ala.
August 29 - St Louis, Mo.
And here's a little video peek at the French Dip Maids:
The French Dip Thickburger is $3.99 by itself or $5.99 in a small combo, but here's a
coupon for $1 off the French Dip Thickburger combo
.
Feeling a little short on salt today, the French Dip Thickburger is the sandwich for you, with 2280 mg of sodium, it has 95% of your daily suggested intake of sodium. And 650 calories, 300 of which are from fat. Here's the complete nutritional info: