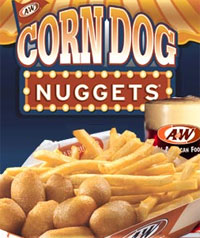 Yes, you read that headline right: "Corn dog nuggets!" Seriously, why hadn't anyone thought of that until now! Oh right, because it's gross!
A&W Restaurants (of A&W Root Beer fame and a subsidiary of the ever-growing fast food empire: Yum! Brands), has added corn dog nuggets to their 'Fun Foods' menu.
"A&W takes mini hot dogs, coats them in a sweet cornmeal batter and fries them golden brown."



As A&W also says on their website, "They're sure to have you reliving those great childhood memories of fairs, carnivals and amusement parks." Maybe so, but they're also sure to conjure up visions of the batter-fried contents of a hot dog.
The 10-piece corn dog nugget combo includes french fries and a drink for $3.99. Or, for a quick bite of dog on the run, you can have the corn dog nugget snack; five nuggets for just 99 cents.