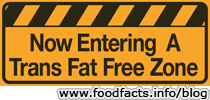 The proposed ban on trans fat in New York City restaurants I wrote about in September is now a reality.
NYC health officials approved the ban on artificial trans fats in city restaurants on Tuesday. The Big Apple is the first US city to impose such a ban, although C
hicago has talked about it, too
.
NYC's ban, unanimously approved by the city Board of Health, requires restaurants to stop frying with oils containing artificial trans fat within about six months and to keep it out of all foods by July 2008.
Trans fats are terrible for you and restaurants shouldn't be using the hydrogenated oils that put them in food, but do we really need the government telling us what to eat? I agree that restaurants should definitely be required to disclose prominently that their food had trans fats, but I'm not sure laws banning them altogether are necessary.