The web sites of Carl's Jr. and Hardee's have been re-launched in a 3D version. Here's a screen capture of the new Hardee's site: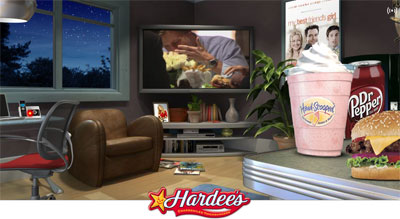 The sites feature a "young, hungry guy's dream bachelor pad, starting with a virtual, 3D living room landing page and a large, flat-screen TV playing Carl's Jr. and Hardee's latest televsion ads."
Site visitors can now select a virtual roommate who will interact with them each time they login to the site. And because we all know guys like gaming, the site allows visitors to sign up for the "Burger Slayer" loyalty program, earning points that can be used to customize the look of the living room and eventually unlock "hottie" roommate options and other brand fan freebies.
"When we first partnered with Spacedog Interactive, now part of Mendelsohn│Zien Advertising, to design and launch state-of-the art Web sites for both Carl's Jr. and Hardee's in 2005, the sites were unlike anything anyone was doing in the industry because they focused more on an aspirational lifestyle for our 'young, hungry guy' customers," said Brad Haley, executive vice president of marketing for Carl's Jr. and Hardee's restaurants. "But since that time, others have copied our approach – in some cases very closely, indeed - so we wanted to regain our leadership with revamped sites that take the virtual living room environment and the overall brand interaction potential to a whole new level. The new 3D capability and full live-action video capability will also allow us to do cool things like have special guests, including hot new bands, make exclusive appearances on the sites in the future."