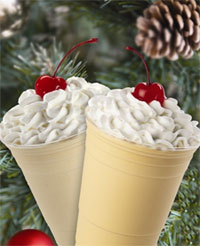 Looks like it's time for those special fast food holiday shakes!
We wrote about
Chick-fil-a's Peppermint Chocolate Chip Milkshake
last week.
Now Jack in the Box has announced that their Egg Nog and Pumpkin Shakes are back for the holidays, too.
They have returned each year since their introductions in 2000 and 2004 respectively.
"Our Egg Nog and Pumpkin Pie shakes have become real signs of the season for many of our guests," said Teka O'Rourke, director of menu marketing and promotions for Jack in the Box Inc. "They're a delicious way to get into the holiday spirit."
They'll be available for a limited time, of course, and priced at $2.49 for the 16 oz size and $2.99 for the 24 oz size.
The 16 oz Egg Nog Shake has 730 calories, 320 of them from fat. But hey, it's the holidays and that New Year's resolution is months away! Go for the 24 oz Egg Nog Shake with 1450 calories, 610 calories from fat, 68 grams of fat (105% of the daily recommended amount) and 24 grams of saturated fat (225% of the daily recommended amount)!! Unfortunately you'll be getting 3 grams of Trans Fat with that, too. Ho Ho Ho!!