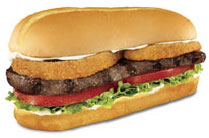 Carl's has a
coupon
for $1 off their Charbroiled Steak Sandwich.
This long sandwich is "100% sirloin steak" (aka, 'oblong hamburger patty'), onion rings, lettuce, tomato, and mayonnaise on a toasted steak roll.
It also generously includes 700 calories, 330 of them from fat, and 38 grams of fat. Here's the rest of the nutritional information from
Fast Food Facts
:
Carl's Jr.'s marketing slogan for this sandwich is: "It's how guys do fancy."
"In this economy, it's understandable that guys would want to watch what they spend," said Brad Haley, executive vice president of marketing for Carl's Jr. "So, we're giving them the opportunity to do just that with the new Charbroiled Steak Sandwich. It isn't cheap, low-quality, value-menu fare like most of our competitors are pimping right now, but it does represent a great value for a big piece of steak compared to what guys would pay almost anywhere else. Even in these tough times, people still want quality food and great taste, but they also want to feel like they are getting a good value for their money. And, for a little over four-and-a-half bucks, the new Charbroiled Steak Sandwich from Carl's Jr. delivers value in a big way."
The TV ad for the Charbroiled Steak Sandwich are supposed to be funny... how about ridiculous and disturbing...
Here's the
short version
.