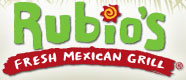 Rubio's Fresh Mexican Grille (a Western US chain) has introduced their "All-American Taco."  Really, though, it is a 'hamburger taco.'
I'm surprised this hasn't shown up somewhere before.  It is the perfect blending of American and Mexican cuisine... and so simple.  A hamburger patty in a taco.
Rubio's describes their creation thusly, "a juicy, perfectly seasoned, char-grilled beef patty topped with melted American cheese, then complemented with salsa fresca, smoky garlic-chipotle mayo and lettuce.  Served in a warm, soft flour tortilla with a jalapeno alongside."
But just look at it...
It is a hamburger in a taco.  Rubio's calls it the "burger with a Beach Mex twist." I call it genius!
I wish I was nearby, I'd love to try one.  If you have, let us know about it.  This could be a fast food breakthrough.
The $2.99 All-American Taco will be added to Rubio's menu for a limited time beginning today.
"I've always wanted to blend the cultural tastes of Mexico with those of the U.S.A., and I think this new All-American Taco is better than either on its own," says Ralph Rubio, co-founder and chairman, Rubio's.

"We looked beyond the expected to introduce something totally unique, and with one bite the All-American Taco brings fond memories of the local beach drive-in and a trip to Cabo all at once."